Free Rein Mission & History
Our mission is to serve the community by strengthening the spirits, minds and bodies of children and adults through interaction with horses.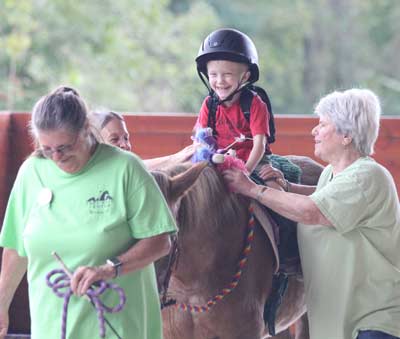 Founded in the Fall of 2000 on top of See Off Mountain – just south of Brevard NC – Free Rein Center offered its first class in the spring of 2001. Many things have changed since then – people, horses, and even locations – and our programs have grown in size and scope.  One thing remains the same – Free Rein Center is a place where everyone appreciates and enjoys horses helping humans heal.
As our programs – and the number of people served – grew, we moved "down the mountain" and entered into a partnership with Rockbrook Camp for Girls in 2011. Leasing the camp's equestrian facility and using horses from Rockbrook and other local summer camps has worked very well for everyone.
Since moving to Rockbrook, we have increased the number of individuals served and added new programs to serve local schools and Transylvania Vocational Services (TVS). TVS is a private, non-profit dry food manufacturer based in Brevard that employs a high percentage of adults with intellectual and developmental disabilities.