Our Community Outreach programs support Free Rein's mission by increasing opportunities for new populations in our community to benefit from the horse/human bond. A Sensory Trail provides therapeutic riders as well as other program participants experiences of mindfulness, meditation and physical well-being. For at-risk youth, Free Rein offers an innovative program called Say Whoa to Bullying. Silver Saddles focuses on assisting seniors by increasing strength & mobility while helping with depression. Other services include Grieving Family Riding lessons and riding sessions for those with Post Traumatic Stress. Weight restrictions apply.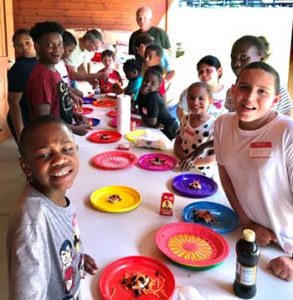 PROJECT ODYSSEY VISIT 2022
Project Odyssey® is a 12-week mental health program that uses adventure-based learning to help warriors manage and overcome their invisible wounds, enhance their resiliency skills, and empower them to live productive and fulfilling lives. Based on their unique needs, warriors can participate in an all-male, all-female, or couples Project Odyssey.  Free Rein Center had the pleasure of hosting a group at the stables in April 2022
WHAT WAS THE BIGGEST THING YOU LEARNED FROM TODAY'S SESSION?
I learned that horses are the gentle powers of the planet.
To stay in the horse's line of sight.
Horses are like people, if they are loved and nurtured they will show basic love and obedience with one exception, people are evil and horses are not.
Telling someone or something to do is not as easy as it seems.
Sometime the horses just need a second before they're ready to perform, just like people like us when we anxious/overwhelmed, etc.
To trust the horse.
We have to trust and believe.
That horses are loving animals, that mimic how we feel if your comfortable they're comfortable.
To be firm but gentle.
Don't need the horse's name to get it's attention.
How working in a calm manner effects how you maneuver the horse.
To stay calm, talk softly, be present with the horse.