Free Rein Raffle
We would like to thank everyone who bought or sold tickets for our 2023 Kids Scholarship Fund raffle.
Our drawing took place on Thursday, June 1.  Mayor Maureen Copelof drew the winning ticket in her office.
The lucky winner was Julie Santiago.  She purchased her ticket from one of our horseleader volunteers.
We raised over $10,000 for this scholorship fund.
SUMMER 2023
We are  announcing the retirement of one of our herd. Dakota has been with us the last five years and has now gone back to his family to spend the rest of his days being doted on hand and hoof. While we will all miss this sweet boy, we are happy knowing that he is continuing to live his best life and fully enjoy his retirement.
We have added two new horses to our herd.
A brown Thoroughbred named Big Quiet.  He was donated to Rockbrook Camp.
A Black Quarter Horses named Raven.  He was donated to Free Rein.
Stop by after September 1st to meet our new additions!
One of our participants graduated from Isothermal Community College.  Claire's favorite horse is Moe.  Congratulations and best of luck to you Claire.
SPRING 2023
With a grant from the Glass Foundation Free Rein was able to purchase 12 Hay Gain Foragers.
As grazing animals, horses have digestive systems that are designed to process forage in small quantities over several hours. The Forager Slow Feeder facilitates this in modern horse management by extending mealtimes without frustrating your horse. More time eating equals less time for boredom behaviours and food scarcity stress, especially for horses on restricted diets.
Prolonged chewing produces saliva that protects the horse's stomach lining from naturally occurring acids. This helps reduce ulcer risk.
The Forager facilitates eating in a lowered-head position. This allows drainage of respirable particles and natural feeding posture in the jaw, neck and back.
Containing hay off the floor keeps it clean and reduces the waste of forage trampled into bedding, manure and urine.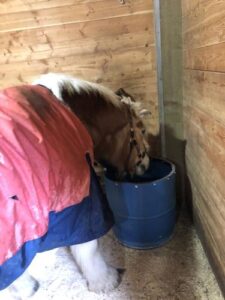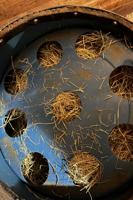 SPRING 2022
The Free Rein Center began its spring session on Feb. 21 with 92 students. That's the largest number of clients registered for a session the center has had since COVID-19 began. Excitement was in the air: everyone was looking forward to warmer weather, horses were looking forward to seeing their students, and staff was working hard to get the facility and programs ready, according to a news release.
Of equal excitement was the number of new volunteers who came to Free Rein this spring. Program Director Brittany McCathern indicated 114 volunteers will be working with Free Rein. This spring, 23 new volunteers have gone through program training to become horse aides with students. Nine new people have volunteered for barn chores.
Old and new volunteers will meet a familiar face with a new job description this spring. Megan Johnson has joined Free Rein as horse care coordinator. She earned her A.A.S degree in equine training from Martin Community College. She is a familiar face to those who have been involved in summer camp at Rockbrook where she has been a riding instructor. She looks forward to getting to know the volunteers and helping to provide the students with a therapeutic riding experience.
Programming and clients not only come from the Transylvania County school district but in order to provide for some outside organizations and waitlisted clients Free Rein has made available a four-week session. Two organizations, SkyTerra and Aspire, contracted with Free Rein for availability for their clients during this session. Individuals learn horse facts and participate in horse care. They are assigned "their" horse for the duration of their involvement. This has proved to be a positive approach to learning responsibility, to promote partnership and to provide a self-esteem growing experience. Feedback has been incredibly positive.
Currently, some other organizations have expressed interest in becoming involved in this short-term curriculum. An organization in Buncombe County which is similar to SkyTerra is interested in the four-week session and may join with SkyTerra at the center. Broyhill Children's Home in Clyde, N.C., is interested in becoming a new client organization in some form, either by having Free Rein go to their facility to train staff or possibly a "day camp" event for their children and staff at Free Rein. Recently, SAFE in Transylvania County began exploring possible volunteer and participant opportunities.
The newest addition to Free Rein is equipment. During inclement weather, Free Rein's horses are stabled. McCathern began to notice some disturbing issues with some of the horses. She knew that if horses eat all their food too quickly, problems can begin. Horses are forage animals. In the wild, they would typically graze for multiple hours throughout the day to keep food in their digestive tract. If a horse eats its hay too quickly, it leaves hours with an empty digestive tract. This can lead to colitis and ulcers. McCathern reviewed best practices in hay management designs to encourage healthier digestion, to slow down eating and to promote a natural grazing position.
Free Rein's new hay barrels were the result of taking this design idea and turning for help from three of Free Rein's most helpful volunteers – Judy and Greg McCathern (her parents) and Austin McCall. Two barrels were designed with a lid that is placed on top of the hay in the barrel. The top has holes so the horse can grab hay but not too much. As the horse eats, the lid lowers on the hay. Two of the horses that were clearly in distress received these barrels, and it worked. Free Rein intends to eventually have a hay barrel for all of its equine partners.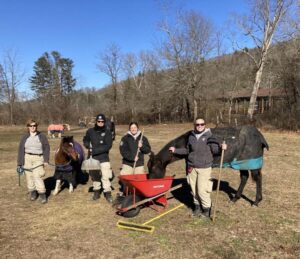 AmeriCorps National Civilian Community Corps Helps Out
Nine members of the AmeriCorps National Civilian Community Corps, which is a residential volunteer program, are staying at the Lake Logan Center in Canton for five weeks. During this time they are helping members of the Cruso community rebuild after the major flooding damaged many homes last year. On their weekends while in the area, they wanted to help the horses at Free Rein Center for Therapeutic Riding and Education get ready for this spring's sessions starting Feb. 21. They have spent several Saturdays at the barn cleaning tack, washing out water troughs, grooming horses, sweeping out the hayloft and many other things needed to prepare the barn for the next group of students. The horses and staff greatly appreciate this extra help. Free Rein depends on the help of many volunteers. For each student rider it takes between two and three volunteers. Brittany McCathern, the program director, said she has 90 participants signed up for the spring session and more on the waiting list. This requires a lot of volunteers. The next volunteer orientation will be on Feb. 10 at 1p.m. Volunteers only need to commit to a minimum of six hours. One hour in the morning or afternoon, almost any day of the week, six times per session. Volunteers are mostly needed to walk around the ring beside the horse ensuring the safety of the student rider.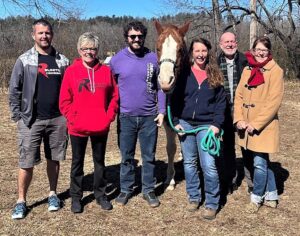 In Memory
Reunited CrossFit honored the memory of Avery McKeller in a workout on Feb. 9 and collected $700 from members, which was donated to the Free Rein Center for Therapeutic Riding and Education.  Avery loved to ride horses and to come to Reunited CrossFit.  Avery, who was known for "Living life loud" continues to inspire those who knew her.  Pictured left to right are Tim Worley, JC McCarson and Glenda McCarson who are owners and coaches of Reunited CrossFit; Brittany McCathern, program director of Free Rein with Tonka the horse Avery rode; and Avery's parents, Mack and Paula Mckeller.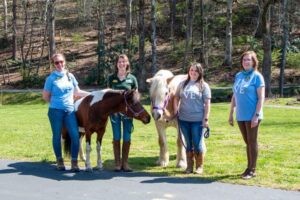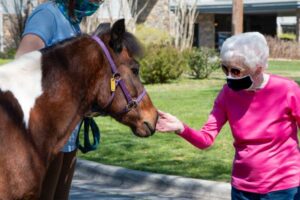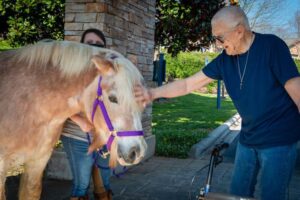 COLLEGE WALK VISIT
Many of us are tired of being cooped up with weather and with COVID-19 restrictions.This includes two of Free Rein's horses, Zoey and Toby.  They love to make folks smile so they indicated if they could go somewhere outside and meet people.  Free Rein listened and contacted Valerie Tilson at College Walk to see if Zoey and Toby could visit.   On Tuesday, April 6, both ponies were made to look their best and get close and personal with College Walk residents.
Free Rein Center's mission is to serve the community by strengthening the spirits, minds, and bodies of children and adults through interaction with horses. Established in 2000, Free Rein Center for Therapeutic Riding and Education offers youth and adults from Transylvania, Henderson and Buncombe counties supervised human-horse connection to address physical, emotional, and cognitive challenges.
Free Rein Center is a non-profit (501c3) organization certified by the Professional Association of Therapeutic Horsemanship (PATH). Its instructors and director are PATH certified, with additional training on a yearly basis.  Since 2000, Free Rein has offered its services to over 500 children and adults, with the assistance of over 1,000 volunteers, using over 60 horses.  Those services, horse care and equipment, and space all come at a cost.
A reasonable estimate of the total cost of a lesson with services, care, equipment, staff and space (provided at Rockbrook Camp since 2011), is over $150 per hour lesson.  Fees are charged to clients but most are on scholarship (assessed on a sliding scale). Most of Free Rein's fundraising goes toward program costs, and no one is turned away because of the inability to pay. The "life blood" at Free Rein is volunteers.  Most of the work is done by more than 80 volunteers. Many serve as side walkers, barn helpers, board members, horse leaders, event planners and through two newer volunteer programs: HEROS and sponsorship.
The herd consists of hardworking equines that change lives one hoof beat at a time. They require a considerable amount of love and care to keep them in optimal working condition to best serve participants.  The annual cost for horse care is about $38,000. You can become a HERO (adopt a horse) with a donation of $250 or more toward the cost of "your" horse's care.  The sponsorship program begins at the $250 yearly level up to $5,000 donation level. Each level brings your name or organization acknowledge-ment on the website and signage, with additional access to the annual fundraiser and publications.