Jerry enjoyed a rewarding career in health care spanning 37 years. He practiced in diverse areas such as hospital pharmacy management, home health care and long- term care consulting and hospital administration. He was appointed to the Ohio State Board of Pharmacy for eight years and was an adjunct professor at the University of Cincinnati College of Pharmacy and the Wright State University School of Medicine.
In 2003, Jerry and his wife Gloria, a retired elementary school principal, moved to the Brevard area, anticipating a relaxed life style in the outdoors, hiking, fly fishing, traveling and playing golf. Within a short time he decided it was time to contribute to the community and ultimately served on several non-profit boards. Jerry was raised around Standardbred race horses a good part of his life and with his background in health becoming involved with Free Rein was a perfect fit.
Jerry and his wife live in the Cedar Mountain area, along with their Soft Coated Wheaten Terrier, Murphy.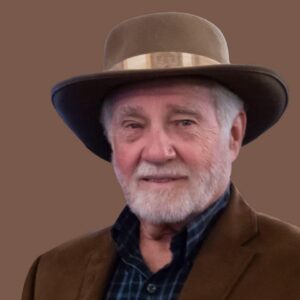 Nancy joined the Free Rein board after moving to Brevard from Tampa, FL. A journalist by profession, she spent the last 20 years of her career in philanthropy as administrator of the Tampa Bay Times Fund. Through her work, she saw how nonprofit organizations could positively impact the community. She sees Free Rein's mission to help children and adults through the horse-human connection a good way to help make a difference here in her new home. She is married to another journalist and has two adult children and a shelter cat.
Carter Heyward
Board Member
Carter is a retired seminary professor, Episcopal priest, and feminist liberation theologian and author. She founded Free Rein in 2000 to draw together her love of animals, especially horses, and the work of caring for vulnerable human beings. At one time or another, Carter has worked at Free Rein as volunteer, instructor, horse-trainer, stall-mucker, fund-raiser, Board Chair and Executive Director. She is the author of several books and speaks frequently to groups.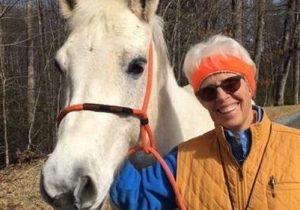 Denise Stretcher
Board Member
Denise has been on the Free Rein board since shortly after she moved to Transylvania County in search of fun and adventure! Her initial career was in Special Ed where she worked first in adult residential services, and then as a teacher for students with multiple challenges. After teaching for several years, she went to medical school to become a Family Practice physician. She is currently at Brevard Family Practice where her approach to her patients is the same as it was when teaching her students – to meet the individual's needs using their own unique strengths, beliefs and interests.
She has been happily married to Brian for over thirty years and they have two wonderful young adult children, Eric and Sarabeth.
Shortly after moving to Brevard in 2012, Donna began volunteering at Free Rein Center and joined the Free Rein Board of Directors. Donna says, "Sometimes I think being at the barn is more therapeutic for me than for our students." An amateur photographer, she loves taking pictures at the barn of students and the herd.
Donna spent her 27-year career at SunTrust Banks as Vice President/IT Project Management Office, executing multi-million dollar projects through life-cycles that included mergers, software and hardware development and implementation, and systems maintenance and upgrades. Donna also developed and delivered PM training and support to the PMO.
Donna lives in Connestee Falls with her husband Dave and their two cats, Murphy and Louie.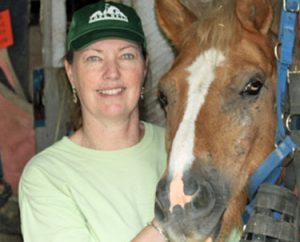 Linda Felderhoff
Board Member
Upon relocating to Brevard, Linda wanted to be a part of Free Rein and has been a volunteer since 2017. She is honored and appreciative of the opportunity to witness the "magical connection" that happens between a student and a horse.
Linda's retired professional background consists of Compliance Analyst for an E-Rate Program, Office Manager of The Free Clinic of Transylvania County and Business Officer at the University of Alabama at Birmingham Division of Nephrology. Linda also enjoys woodworking with her husband, Kevin and hiking with their daughter, granddaughter and dogs.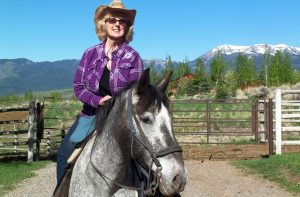 Jim, a native of Brevard, joined Free Rein 3 years ago as a volunteer. He was amazed at the positive life changing events the students experienced while participating in our programs. After graduating from Wofford College, he spent 30 years with IBM as director of Sales and Marketing and 8 years with The Princeton Review of New York as VP of sales. His wife Toni is also a volunteer, and is working toward becoming a PATH certified instructor. They both feel very blessed to be a part of Free Rein, where they see dreams come true.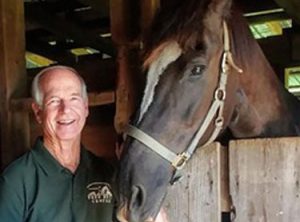 Porsha Smith
Program Chair
Porsha Smith is a Board Member as well as the Chair of our Programs Committee. A Brevard native, she started with Free Rein as a volunteer in 2004. She is a retired Speech Pathologist who spent the majority of her career working with children who have significant cognitive delays. Currently, Porsha is working on her Active Animal and Therapy certification.