Nickers & News  is a great way to stay up-to-date about what Free Rein does,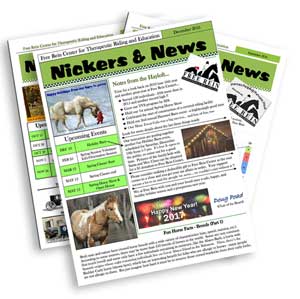 who is doing it, and (more importantly) who we serve and why it matters.  If you'd like to receive new issues by email, please send a request to freereincenter@gmail.com and we'll add you to our ever-growing list.  Please feel free to share them with your friends and family, too.
Click on a newsletter issue below and it should open in a new window for you to view.  They are in ".pdf" format, so you will need Adobe Acrobat Reader (free download at www.adobe.com) or some other pdf file reader to view it.  Some browsers (i.e. Google Chrome) and smartphone operating systems (i.e. Android) have .pdf reader applications built in.
If you have any trouble opening or viewing them, please let us know so we can fix any issues involved.  Please note that the newsletters are listed below from most recent to oldest issues, with the newest issues at the top of the list.